Messages

33
Likes

3
City

Las Vegas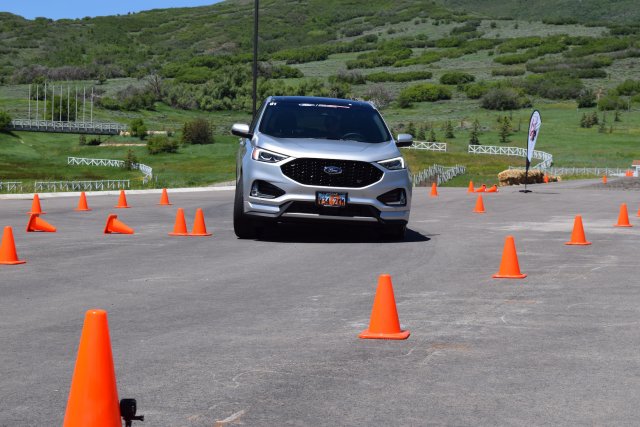 Now that Ford has made the daring move to ditch pretty much all of its passenger cars in North America, things are changing at the Ford Performance Racing School in Utah.
Yes, the Mustang and Shelby GT350 programs are still in full swing, as are the off-roading Raptor hoop-lahs, but the hot-hatch events are winding down as the Focus ST, Focus RS and Fiesta ST end their scrappy runs here North America. A moment of silence, please.
The Oakville-built Edge ST and upcoming Explorer ST will be the only Fords wearing the hallowed "ST" badge for now, so say hello to the ST SUV Experience brought to you by the Ford Performance Racing School.
With the purchase of either of these performance crossovers, customers can take Ford up on this free one-day experience (for driver and guest) that also includes a one-night stay at the Hyatt in Park City, Utah and all your meals. The program runs from May until September. This year it is just for the Edge ST — the Explorer ST joins the party in 2020. All you need to pony up for is a flight to Salt Lake City.
Unlike the Mustang and hot-hatch programs, participants will not be flinging the supplied crossovers around Ford's 7.2-km, 23-turn track at the school in Grantsville, Utah. The demographic buying a sporty ST-badged SUV is
not
your Shelby GT350 crowd, and Ford has tailored this program to suit.
Think of the ST SUV Experience as an introductory handshake to the capabilities of these more athletic versions of Ford's bread-and-butter crossovers. Ford is smart enough to know that tracking their ST SUVs would be just dumb.
The participant's day starts with a beautiful hour-and-a-half leisurely drive over the mountains from Park City to Soldier Hollow, the site of numerous 2002 Winter Olympics events.
So what exactly is a Ford Edge ST? New for 2019, it's a nicely sorted performance version of the mid-size Edge crossover. No, you won't be chasing any nut-bar Mercedes-AMG crossovers, nor will you say "Hey, this feels just like my Focus ST." But I do think Ford has done a good jog of giving more, er, edge to this Edge without sacrificing its core values. Pricing for the Edge ST starts at $48,199.
Like last year's Edge Sport, the ST runs with a 2.7-litre twin-turbo EcoBoost V6, although the wick has been turned up by 20 ponies and 30 lb.-ft., to 335 horsepower and 385 lb.-ft. of torque, respectively. The Sport's six-speed auto gets ditched for a new eight-speed unit with paddle shifters, and the ST gets springs that are 12 per cent stiffer in front and 20 per cent stiffer out back, along with stouter roll bars.
The all-wheel-drive system is tweaked for more rear bias when in Sport mode, and it will fully decouple the rear axle for improved fuel mileage when cruising. Sport mode (activated by the 'S' button in the middle of the rotary gear selector) sharpens throttle response, brings up a more aggressive shift program and pipes some synthesized engine growl through the speakers.
What Ford hasn't done is turn the Edge ST into a compromise. Despite feeling more buttoned-down and possessing surprising grip, it still has a compliant, quiet ride. During our mountain tour on the way to Soldier Hollow, the ST showed poise and accurate well-weighted steering, along with a fair helping of luxury, here equipped with ventilation for the excellent leather 10-way sports seats with faux-suede inserts. Good-sounding audio, too.